Google Summer of Code has started taking student proposals. This year Strigi is joining the KDE project in Google Summer of Code again. For students looking for a nice project in information technology in the true sense of the word, Strigi is the project to join.
Last year we had a great project by Alexandr Goncearenco which resulted in giving Strigi the ability to extract information from a plethora of chemical datatypes.
You can read all about his work in his blog.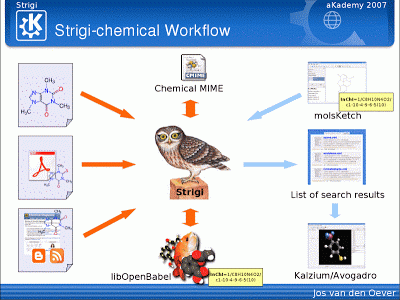 This year, there are many possibilities to do great work. Here is a list of suggestions.
KDE4 Search program using Xesam

Strigi is part of the Xesam project which also includes Beagle, Tracker and Pinot. Because we now have a unified query language, we can have one search client that is a front-end to all of these search clients. It would be important to let this client integrate well with the KDE4 desktop.

Live search in Plasma

Wouldn't you like to have a plasma widget that you can give a Xesam query and which will stay up to date? It could show the last emails you received or your most popular songs. Or the latest pictures of your cat.

Integration of Strigi into K*

Take your favourite KDE application and make it completely Strigi-aware. This means: make sure the file types it produces can be read by Strigi and add a search box to the program in the relevant places.
More suggestions can be found here.
Of course you are more than welcome to come up with your own ideas too. But hurry up, the deadline is approaching.