Microsoft is pushing their evil SilverLight platform very hard. They want to make sure that providers of cross-platform software for delivering rich applications via the web browser are thwarted. This is normal behavior for a monopolistic company and certainly for Microsoft. To accomplish this goal they are throwing around bucketloads of money and FUD to get content providers to use the Microsoft malware Silverlight exclusively.
Their latest feat is the way they exploit the European soccer championship 2008. They have made a deal with a government funded Dutch broadcaster to deliver a live stream of all soccer games. The snag is: all visitors to the broadcast website must download and install the Microsoft malware called SilverLight.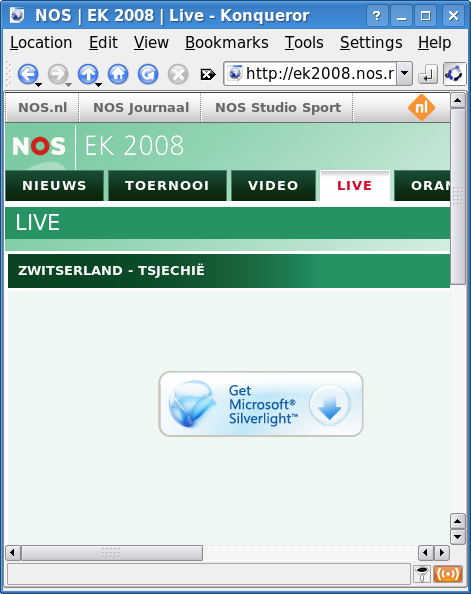 Most of the internet using Adobe Flash to serve up movies. This is evil too, but at least it is cross-platform evil.
Actually, you do not really need to use Silverlight. There is an alternative. You can use a Microsoft mediastream. This stream has been DRM-ed. This means it can only be played on Windows and you cannot play it more then once unless Microsoft allows you to.
So this is the choice Microsoft is offering: lock-down A or lock-down B. And the Dutch broadcaster NOS is helping them control you.
If, like me, you do not like this, please mail NOS.